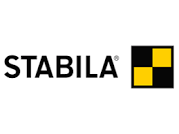 STABILA type 80 ASM spirit level
If you're looking for an accurate and reliable spirit level with exceptionally strong rare-earth magnets, this model is just the ticket. The type 80 ASM reinforced aluminium rectangular profile, together with STABILA installation technology, ensures accuracy and a long service life. The vials and the measuring surfaces align perfectly with one another during the production process and are permanently connected, guaranteeing the very best in measuring accuracy over many years. This is a spirit level that delivers what it promises.
Product advantages
Aluminium rectangular profile with reinforcing ribs – for high stability and secure hold while working.
Extra-strong rare-earth magnet system for adhesion to metal objects – leaves the hands free when aligning and adjusting pillars and supports (up to 5 times stronger than standard ferrite magnets).
Built-in slip-stoppers ensure firm grip when marking.
STABILA high-quality vials for optimum readability – highly transparent, hard-wearing acrylic glass with precision-ground inner contours and fluorescent vial liquid.
STABILA installation technology ensures long-term accuracy – measuring accuracy in normal position is ± 0.5 mm/m and ± 0.75 mm/m in reverse position.
Spirit level with two measuring surfaces – accurate measuring in all positions.
Plastic end caps protect the profile against impact.
Easy to clean thanks to the electrostatic powder coating.
Equipment: 1 horizontal vial, 1 vertical vial, 2 coated measuring surfaces, rare-earth magnet system.
Application examples
This spirit level is especially suitable for measuring tasks in metal construction and drywall construction.
Available in the following sizes: